09 Mar

Case Study: Developing Innovation Leaders at a Global Tech Company
How might we equip a Fortune 100 Tech Company's top 100 sales managers with the right innovation tools and mindsets to lead projects that will increase customer and business value?
At A Glance:
CLIENT:
Fortune 100 Global Technology Company
TIMELINE:
6 months
PROJECT TYPE:
Culture of Innovation
DECISION MAKER:
Global Strategy Director
FUNCTION:
Sales & Partnerships
I will recommend the program to any of my peers who are looking for more in their positions. The level of self-reflection that I underwent during this program is unmatched by any previous experience that I have had. The leadership took us all seriously and really invested their energy into broadening our horizons and showing the varied opportunities for leadership at [the company]. I am very happy to have been presented with this opportunity and feel like this has been a fulfilling year because of it. The outcome was definitely worth the effort."

Program Participant
The Challenge:
Translating ah-ha moments and learnings into new innovations is challenging, especially for a global company where leaders and teams are widely dispersed. So, our client brought us in to redesign their Leadership Development Program to build top talents' leadership skills and grow their innovation competencies, tools, and mindsets within their day-to-day work as customer-facing leaders.
The Solution:
Discovery
We began the project by evaluating the existing leadership development program and aligning around a common goal of ensuring participants would not only learn innovation tools, but would have plenty of opportunities to apply their new skills on problems related to identifying new sales growth opportunities. We also defined the constraints, including a six month time frame, a global audience working remotely, and high expectations from leadership.
Design
We designed a six-month learn-by-doing innovation course, consisting of monthly virtual workshops. Each month's workshop gave participants the chance to learn and practice tools related to a different step in the innovation process: Creative Collaboration, Customer Discovery, Opportunity Definition, Concept Development, Prototyping, and Storytelling. To help guide participants through each phase, we designed scalable virtual whiteboards with custom tool templates, demos, pro tips, and accompanying principles. In between each workshop, teams would have time to apply the tools they'd learned to a real issue facing the company's customers.
Delivery
Over the course of the leadership development program, we guided teams to interview stakeholders, identify opportunities, prototype concepts, and perfect their pitches. In addition to designing and facilitating the workshop experiences, we also managed the end-to-end program arc, including onboarding team coaches, developing monthly project plans and debrief structures for the teams, and providing feedback leading into the final pitches to senior executives. To support the program roll-out, we devised and led a regular communication plan to engage coaches and participants asynchronously in-between workshops. After the first year of the program, we sought out feedback from participants and coaches that has informed our future iterations on the program.
The Results:
150+ upskilled leaders around the globe over the course of 2 years
60+ hours of structured training and development for each program participant
21 teams collaborated to identify opportunities within their assigned industries, generate ideas, validate concepts, and pitch them to leaders
60+ interviews with end-customers and industry experts
100s of ideas generated before being narrowed down to a few dozen concepts and prototypes
21 innovation concepts with business cases pitched to senior leadership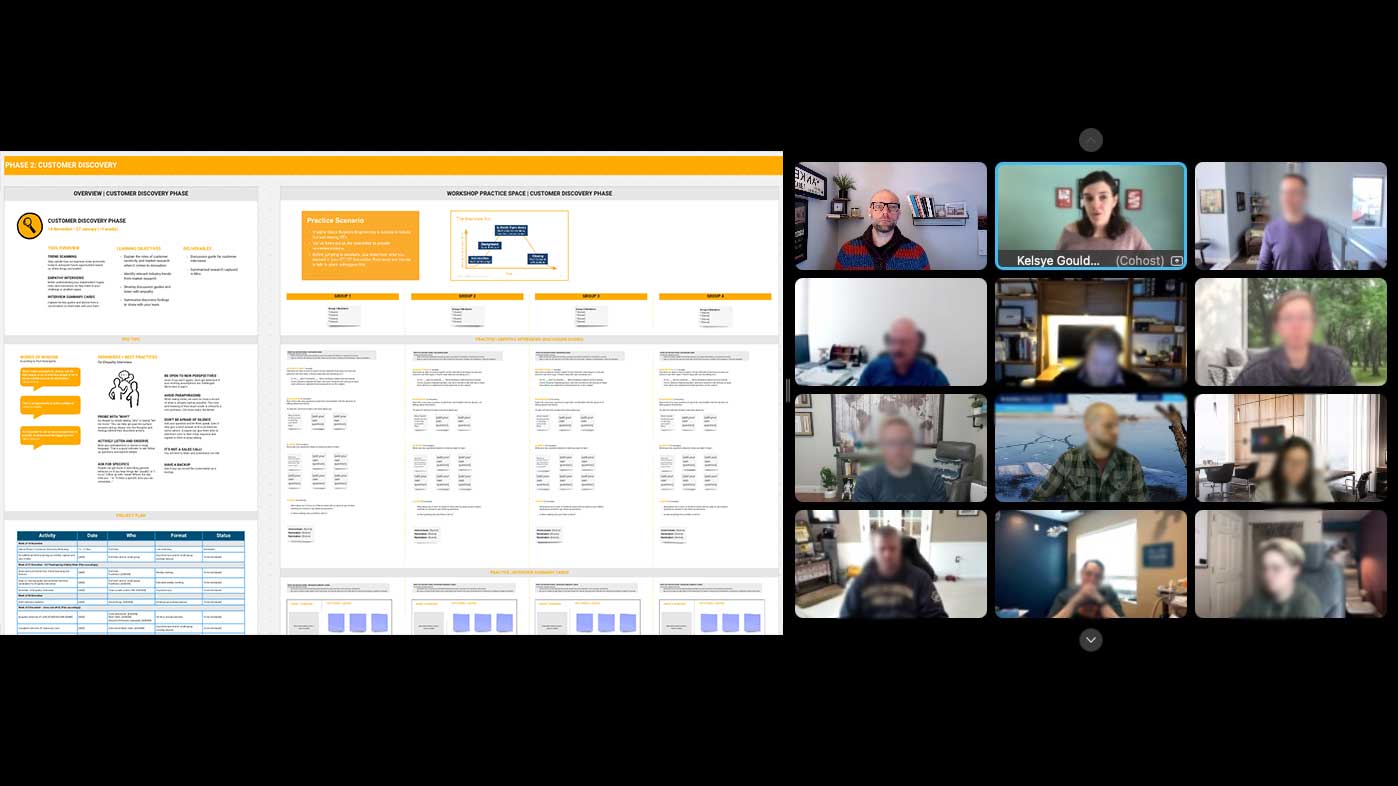 Spark your interest?
BOOK A CALL