29 Mar

What We've Been Up To: Strategy, Innovation, and Culture at The Design Gym
Rather than typing at you this month, we decided to experiment with a video this time around. Check out our Co-Founder, Andy Hagerman, in the short (3-minute) video above to hear:
Some insights on what we're seeing in the world this year
An update on our 3 services
A collection of bad jokes (He's a soon-to-be dad, so we figured we'd let him start flexing his 'dad joke' muscles a little early. Thanks for hanging in there with us.)
Or, continue reading below to see what we've been up to!
---
Hey, everybody!
We at The Design Gym have been so entrenched in the work partnering with amazing organizations, that we realize we have not been talking about it enough within our community. So, we wanted to update you on some of the great stuff we're doing!
We have just hit our 10 year anniversary (I know, we look good for our age!), which is a wild milestone from our early days of running design thinking bootcamps in deep Brooklyn. We've evolved so much since then, and the work we're focusing on now is supporting clients as a full service innovation and strategy consultancy. We have found that tackling new ways of working and implementing culture change is only as good as the work that comes out of it. So, we have really focused on getting closer to where the work happens and shipping measurable business results because, when that happens, people can rally around it and the work speaks for itself.
The work we do shows up in 3 different ways: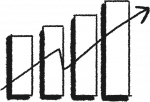 Strategy definition means working with cross-functional leaders to come around the same table, share passionate points of view, and somehow still create cohesive alignment in the end. It's not easy, but we've been helping a lot of teams define that alignment and then cascade it throughout their organizations.
Second, we've been doing a lot of innovation projects. This is where we help get new products, concepts, experiences, and business models into play faster so that your organization can test and, more importantly, learn. Our projects tend to work in 12 week cycles—it's not your grandmother's design sprint. We've found that the 5 day sprint model doesn't work for most organizations, but 12 weeks is a place where we can still do rigorous and important work. We're doing a lot of work on the customer facing side, and also the employee experience side.
Finally, we're doing a lot of work around culture change, helping rewire organizations with new ways of working, mindsets, as well as processes and collaboration models that help change sustain over time. We lean on our design process that we've come to know and love, but we apply it to actually building new operating models and cultures within organizations.
Regardless of the project type, we take a human-centric approach to every problem we try to solve, whether it's involving employees, customers, or other stakeholders in learning or co-creation activities to create lasting change and solutions.
We're so excited for what's to come. If this is striking a chord, or if you just want to nerd out about any of these topics, shoot us a note and we'll be happy to connect!
We hope you're all doing well! You ARE doing great. Let's face it – there are a lot of curve balls that folks are navigating these days, so just in case someone hasn't reminded you lately, we wanted to make sure you knew it – you're awesome. Keep it up.
Work better together,
Andy Hagerman
Co-Founder and Partner, The Design Gym
---
But wait, there's more! 🙌
Interested to see some of our recent work? Check out these Case Studies to see how we bring Strategy Development, Innovation Projects, and Culture Change to life!