30 Sep

It's Time to Rethink Your Next Offsite

Planning an upcoming offsite that needs to cover a year's worth of topics over the course of two days? Have an exuberant leader who is jonesing to get the team back in person for a "fun-filled" few days of presentations? Or maybe your organization is at a crossroads and needs some time to look back before moving forward–but there's no time to do either?

Regardless of the precipitating circumstances, if you're approaching your offsite the same way you did before the pandemic, you're missing a huge opportunity.
Why It's Time to Rethink How You Do Offsites
Just as the pandemic drastically shifted where, how and when we work, so too has it changed what an offsite represents. Before the pandemic, many teams regularly worked together in person, so the offsite was more about stepping away from the day to day. Now, however, when shared time is rare and highly coveted, the offsite has much higher stakes.
Over the last year, we've collaborated with dozens of clients who are scrambling to orchestrate their upcoming offsites, perhaps their first since the "before times." But, rather than see this as an opportunity to rethink how and why they're meeting—the purpose behind their offsite—muscle memory kicks in. Before they know it, they're victim to some of the most common offsite pitfalls we've observed during our 10+ years of supporting such events: over-packed agendas, one-way presentations, and groan-inducing "team building" activities.
These pitfalls result in a highly expensive and often ineffective offsite, especially when you factor in the costs of leaders' time, travel, lodging, venues, catering, swag, and packs of sticky notes in every color. If we measured the ROI of these kinds of offsites with the same rigor as products and services, they would never get the green light.
The Offsite, 2.0
You don't need to buy a ranch to rethink your offsite (although if you do, we hope you'll invite us).
Instead of reverting to pre-pandemic habits (and pitfalls), approach your next offsite as an opportunity to accelerate your top priorities throughout the year.
In our work with clients to design offsite cycles and experiences that connect to their larger strategic objectives, we have identified some common guiding principles for rethinking the offsite. Try them out on your own or give us a shout if you'd like some support!
How to Rethink Your Offsite
1. Define your offsite's purpose.
Ground your next offsite's approach in the larger context of why you're meeting in the first place. In our experience, we've found that an offsites' purpose generally falls into one of four categories based on where you're team is at in their process (building the foundation vs. building momentum) and the types of outcomes you hope to achieve (acting on input vs. gathering input):
Connect + Reflect
This is a popular offsite purpose to start with, especially if your team hasn't gathered for an offsite in a while. The goal is to build the group's foundation by providing opportunities to come together as humans, look back on the past, and learn from each other. For example, during an offsite with a Fortune 50 Chief People Officer's team, we focused on building empathy across the team before identifying shared goals, barriers, and opportunities to redesign collaboration.
Inspire + Imagine
The goal of these offsites is all about getting the group unstuck by providing a little inspiration and permission to imagine what could be. For example, while leading an offsite for the top 400 leaders at one of the largest grocery chains in the US, we integrated customer listening sessions and keynote speakers from external experts to inspire the group. Then we hosted a mini innovation sprint to crowdsource ideas from all of the leaders in response to some of the most significant challenges the organization was facing, complete with prizes for the teams with the winning ideas.
Make + Co-Create
This offsite purpose builds momentum by engaging the group around existing work or strategies. For example, prior to an offsite with a major media conglomerate, we worked closely with the CTO to frame potential strategies that the group then responded to and iterated on further during the offsite.
Align + Decide
Finally, these offsites are all about building on existing momentum to establish a common understanding among the group and make decisions to move the work forward. For example, while working with the transformation team at a multinational tech company, we did strategy research in advance of their offsite which then allowed us to focus their collective time together on defining Objectives and Key Results. Then, after the offsite, the team built out a roadmap for how to achieve their OKRs.
2. Connect success with strategy.
Once you've aligned on the purpose of your offsite, the next step is defining what success looks like—and how you'll know if you've achieved it. And, while asking participants to complete feedback forms after an offsite can give you important intel on the overall experience, the offsite's actual impact will be determined in the three to six months that follow based on how it has helped accelerate the larger strategy.
Answer the questions below to align it with your strategy:
What are the top three priorities that our team is on the hook for delivering? (If you've got more than three priorities, ask yourself how you might remove 80% of these potential priorities in order to focus the group's time together on the remaining 20%.)
How will we know if we've achieved these priorities? What metrics are we trying to move? (i.e., employee engagement, OKRs, sales, customer satisfaction, etc.)
What would the highest value outcome be for our team's leader and their boss? (Like it or not, success is be measured through their eyes.)
3. Make them leaner but more frequent.
In a hybrid or fully remote environment, the offsite's true value gets unlocked when done in cycles—once a quarter or once every six months, depending on your team's needs. If your offsite is a once-a-year production, you're missing out on opportunities to stay agile and keep priorities in the forefront of your teams' mind.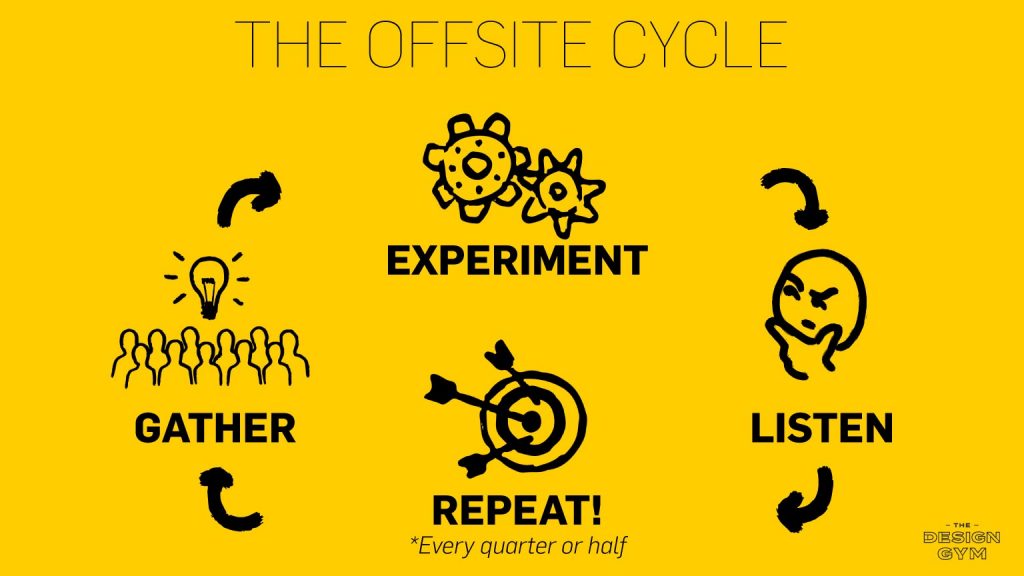 That being said, don't sacrifice quality for quantity. Taking a cyclical approach to offsites allows you to focus the offsite on the team's top priorities rather than trying to cram too many topics into a couple very long days. Your team shouldn't need a vacation to recharge after coming to your offsite.
Design the agenda around the metrics you need to move, not the minutes you need to fill. Every activity should tie back to one of these objectives. If it doesn't, cut it! The question we most often ask ourselves and our clients when planning an offsite is, "What are the conversations or exercises that will be the highest value use of our limited time together?" Anything that does not make the list gets integrated into other working structures or virtual collaborations, such as executing some of the work in advance of the offsite to accelerate the conversation once everyone is together.
For example, at a recent executive offsite we conducted listening sessions in the weeks leading up to the session so that we could facilitate a more pointed conversation on employee pain points in the meeting. Practices like this allow us to maximize our collective time and focus on working together rather than "speaking to."
More frequent offsites also allow you to go deeper on the substance behind your purpose—be it connection, inspiration, alignment or collaboration—rather than waste resources on flashy experiences that don't have the same lasting impact. You do not need to overproduce or engineer offsites when hosted more frequently. In fact, the ability to simply bring folks together to do great work and quality thinking is often the impact most employees are seeking.
4. Invite intentionally.
What's worse than wasting time in a meeting you didn't really need to attend? How about a full day or week at an offsite?
If you've done the work of defining the offsite's purpose and success metrics, use that to inform the invite list. If you're still stuck, use these modified RACI prompts to get you started:
Who will be responsible for achieving the offsite priorities? Who needs to directly participate or do the work?
Who is accountable for delivering on the offsite's priorities? Who will oversee it?
Who should be consulted during the offsite? (These people likely won't need to be invited to the full offsite, but you might bring them in for specific activities or discussions.)
Who needs to be kept informed of the outcomes of the offsite? (These stakeholders likely won't be invited to the offsite, but you will likely need to share out updates and outcomes after the event.
Finally, as you're intentionally considering the offsite invite list and agenda, we've found it helpful to consider which voices the group might benefit from hearing more of and amplifying them to create moments of deeper impact.
When to Ask for Help
If you aren't sure what your Offsite 2.0 should look like, you need some reinforcement in making the case for rethinking your next offsite, or you want to explore what a more cyclical offsite ritual could look like at your org, send us a note to set up a problem framing session with one of our team leads.