06 Jul

How to Design Think One of the Toughest Challenges out There—Your Personal Life
By Gabrielle Santa-Donato
Designers use tools and frameworks to make sense of things that people might otherwise agonize over—tackling wicked problems that lack a set solution and have a tendency to change or evolve while you're solving them. Turns out life frequently classifies as one of those wicked problems.
At the Life Design Lab at Stanford, we use ideas, tools, and mindsets to visualize future possibilities and help students of all ages navigate their way forward. Here are a few of those ideas, tools, and mindsets that I've used working with everyone from a timid college freshman to my ready-to-retire-but-can't-yet dad.
Considering Coherence
Start by articulating your view of the world and your view of work, using prompts like: "Why do we exist? Why do I exist? Why do we work? Why do I work?" After writing out your worldview and workview, look for Coherence. Coherence is when you are able to make sense of the connection between who you are, what you do, and what you believe all. Coherence leads to a greater sense of well-being.
Locating yourself
Designers love frameworks, and nothing beats the classic two by two. Consider the kind of roles that you've had in the past and the roles you desire for the future. Map these roles against the degree of change in the world you'll create and by how closely you'll interact or could interact with the people who will be affected by your work. You might be more fulfilled on the front lines affecting few or systemically affecting millions—and it's good to reflect on where the different roles you've played (especially in your professional life) land.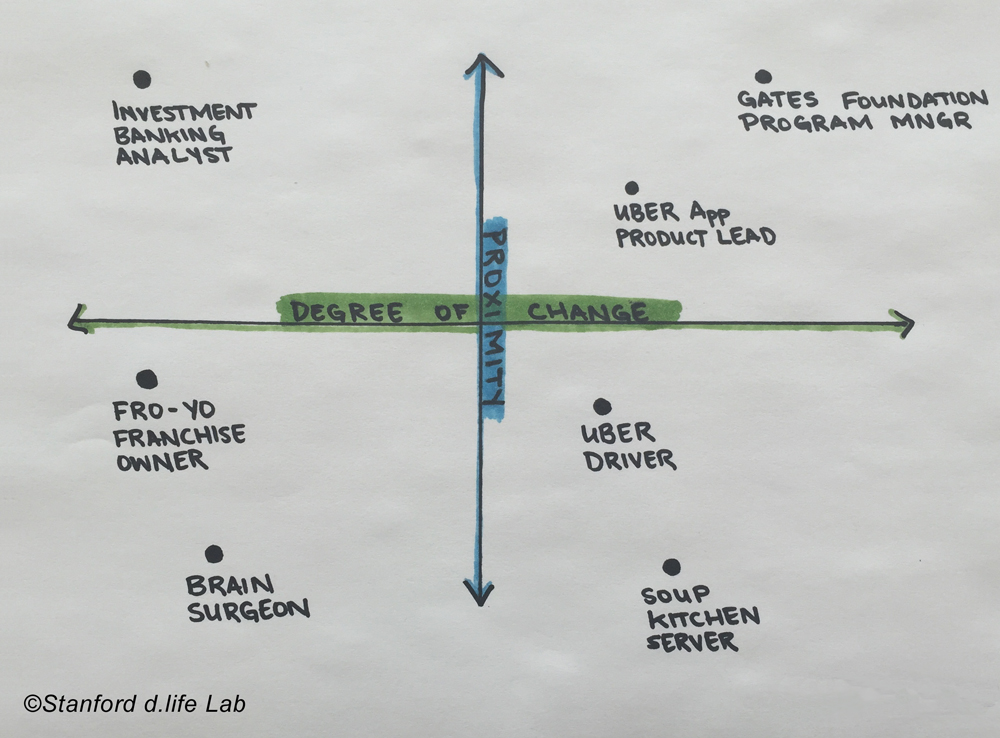 Harnessing Strengths
Consider your competencies and use them! At the Life Design Lab, we really like using Gallup's StrengthsQuest as a tool for identifying personal strengths and competencies. While not free, the $10 cost is well worth it—Gallup has an immense amount of data to work with. There are absolutely tons of self-help and discernment tests out there, and if you want to explore some free ones, I would recommend the UPenn Authentic Happiness Lab's Tests, particularly the "VIA Survey for Character Strengths."
Not a big fan of tests? Don't worry, you don't have to take one to be able to identify and harness your strengths. Instead, try to attend to and reflect on what you're doing when time completely disappears and you're fully immersed.
Building Attentive Practices
In order to make decisions and move forward, you must be attentive. It's a real skill to know when you know something—build up attentive practices to get to know your gut (often referred to as emotional intelligence!). Attentive practices can range from having a gratitude journal to running.
Using Design Mindsets, Especially the Reframe
Design mindsets are these powerful ways of thinking and behaving that come about when we practice the design process over and over again. They are a way of acting and being. And there are a few that are particularly useful in life design. For now, I'm going to focus the mindset I believe to be most powerful, the "Reframe."
Reframe 1
From positive psychologist Martin Seligman: There is a job, career, and a calling. We tend to think that we have to be madly in love with our job and that it must be our undying "passion" (a troublesome word to begin with, especially if you don't know what yours is!). Instead, Seligman states that you can have a job, where you work to pay the bills, and allow yourself to have a life outside of work that is either necessary for survival or even pleasurable and not tainted by your work. Then there's a career, where you care about your work and your growth in that place of work, but it's not capturing your every waking thought. And then there's a calling, where your work aligns incredibly well with your personal interests and desires. Turns out ALL of them are okay. You don't have to be in love with your job: reframe.
Reframe 2
By way of example, positive psychology as a field is a reframe in and of itself. Psychology as a field was originally entirely based on pathology or what is wrong with people. What if we focus instead on what is right with people?
Reframe 3
There is more than one of you out there, which leads me to…
Crafting Multiple Futures and Prototyping Them
The reality is there are multiple versions of all of us out there, and instead of that being terrifying what if it was straight up liberating?
Draw out three distinctly different timelines of the next 5 years of your life. Then prototype elements of each timeline. What exactly is a prototype in life design? In product design it might be a quick and dirty paper model or a storyboard of how a user would interact with a product. In life design, it's a conversation or an experience—hence the importance of informational interviews, the positives of networking, and the power of choosing for us all to get more data quickly on the years ahead.
Sharing and Listening for Narrative Resonance
Finally, designing your life is rarely a solo act. It's explored in community with mentors and support. We learn a lot about ourselves both by sharing our ideas, reflections and multiple lives, and by listening to the ideas and experiences of others, determining what really resonates with us.
Our lives are continually evolving. And while planning for and creatively approaching our various phases is by no means easy, it doesn't have to be unbearable or impossible. Luckily, the ideas, tools and mindsets of design thinking can be leveraged to help us creatively solve the largest challenge we'll ever face—our future.
Want to practice doing it? Join me and The Design Gym on Thursday, July 14th for Desing(think)ing Your Life.
About Gabrielle Santa-Donato
As a member of The Design Gym family, we love to hit up Gaby whenever we can for golden nuggets of content. And we were stoked when she agreed to contribute a blog post on the tools and mindsets that could be leveraged to design think your life. Currently, Gaby is a fellow and lecturer at the Life Design Lab at Stanford University. She teaches courses on how to apply design thinking to the particularly tough problem of deciding what you want to be when you grow up and mashes up design thinking, mindfulness, positive psychology, career strategy, and other fields to create innovative learning experiences