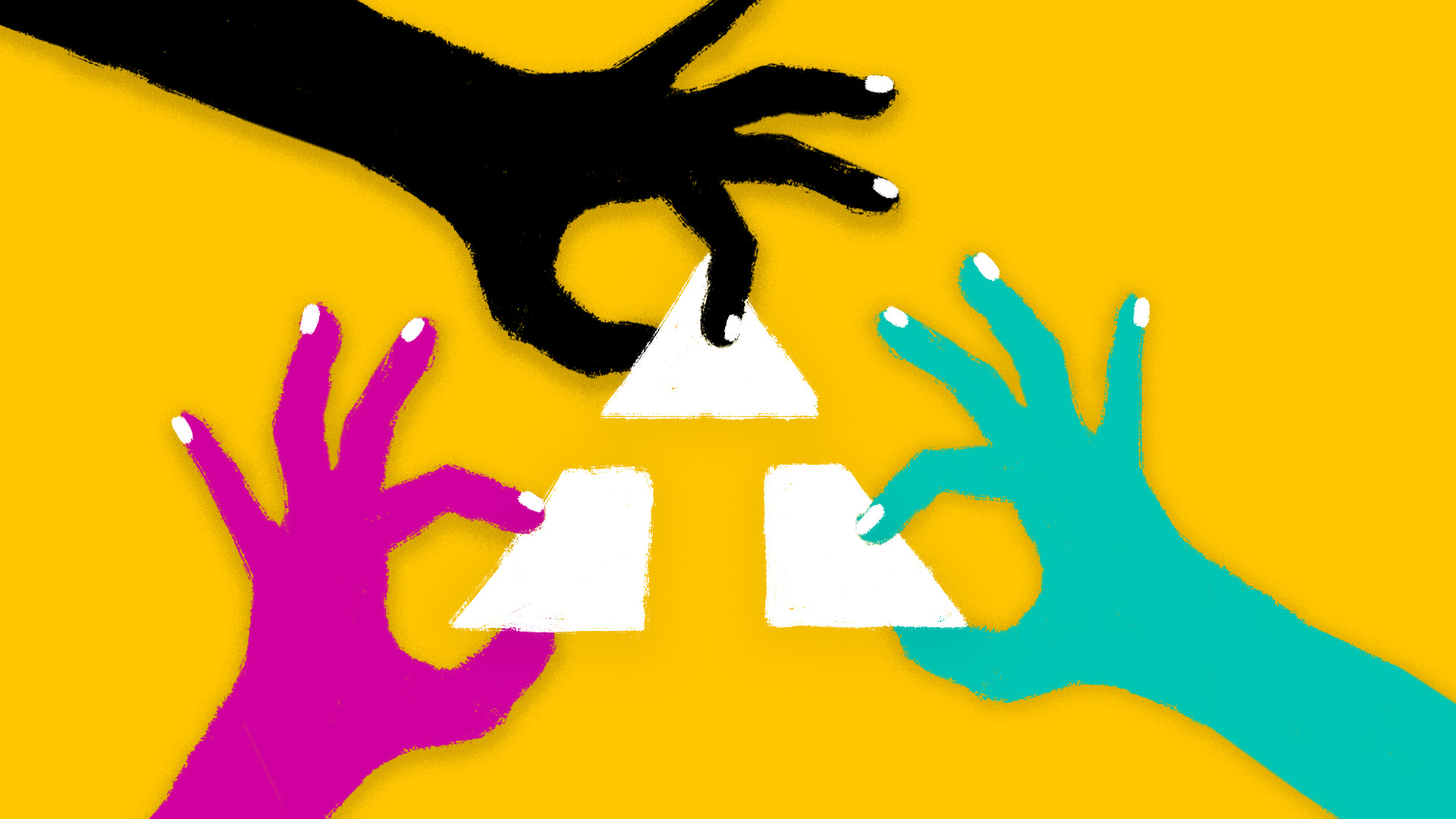 07 Mar

Beyond Buzzword: What Does "Co-Create" Even Mean?
By Melissa Wong
What do ad campaigns, event series, how-to guides and pizza all have in common?
Apparently, these are all things that you can co-create together.
Over the last year, I've heard the term "co-create" with increased frequency and broader applications to the point that I feel myself want to roll my eyes at the very mention. It was starting to feel idealistic to the point of ringing hollow.
"Let's co-create this new program."
"What if we were to co-create this blog post?"
"Can we co-create this song together?"
I began to sense that people didn't really understand the origin or meaning of the term—including myself. How is co-creation different than collaboration? What is creation without co-creation?
I co-run a community event space in Brooklyn called New Women Space that serves as a hub for different communities to host in-person gatherings led by self-identified women, femme, queer, transgender and gender nonconforming individuals. Every access point to the space is collaborative.
As a community builder, not understanding the intention and therefore best application of "co-create" felt problematic. I wanted to get to the heart of what co-creation means and, perhaps more importantly, I wanted a better understanding of why the term was being used more and more now.
A Little Help from My Friends
As I usually do when I don't know the answer to something, I ask others for help.
I asked some of my professional peers who work in social impact and community building about how they define co-creation, what it means to them and how they see this as distinct from collaboration. They responded:
"Co-creation is a redundant term to signal clarity of purpose between people taking extra care to share power and communicate in a way that attempts to invite instead of coerce. Nothing created is ever created in isolation or without co-ness."
Chris Chavez, Chief Community Cultivator, Prime Produce
"Co-creation is engaging in an intentional relationship in order to make something together. Co-creating is usually making something from nothing, using the dynamics of the relationship to build it."
Tracy Candido, Director of Programs and Events, LMHQ
"For me, 'co-creation' refers to a process of collaboration that draws on different forms of knowledge, expertise and perspectives. Depending on the context in which this phrase is used, it may also encompass principles having to do with power dynamics. In many contexts, certain forms of expertise or knowledge are viewed as more legitimate than others (i.e. academic knowledge vs. lived experience). Another example that comes to mind when thinking about 'co-creation' is the common tendency of westerners to think they have the solution to a problem they may not fully understand, especially in cultural contexts that are very different from their own."
Elizabeth Werbe, Associate Director Impact Entrepreneurship, The New School
"Co-creation is when a group of people, ideally with diverse perspectives and disciplines, come together to work on developing solutions to a defined challenge. In my mind, the most important point of differentiation is that the outcomes of the work end up in a place different than any one person's incoming ideas, and more unexpected than any one person might have been able to land on their own. The old saying of 'the whole being greater than the sum of all its parts' captures it pretty well."
Andy Hagerman, Co-founder, The Design Gym
It was evident that everyone has their own nuanced understanding of co-creation. Even this small exercise of asking for definitions seemed to make an argument for co-creating: We all have our own subjective experiences that lead to our own ways of making meaning. Wouldn't we come to the strongest answer if we combined all of our individual meanings together?
Why Co-Creation Now?
All of the sourced definitions make co-creation sound rather idyllic. Yet, they didn't necessarily address why this term was springing up now. Looking to current economic, social and political trends, I put together a list of factors that could be contributing to the timing of co-creation's ascension:
Rise of customer empowerment
Customers have more choices (and less loyalty) than ever before. Organizations can increase loyalty and buy-in by getting their customers involved in the creative process—intertwining them into their organization's narrative, so that they feel they have a shared stake in the outcome. Co-creation processes lead to a feeling of ownership and involvement that breeds connection and pride.
Examples: Nike Signature Shoes, LEGO Ideas, DHL hands-on workshops
Greater importance on good design
Together with co-creation: human-centered design, user experience design and design thinking are becoming more widely understood and practiced. We understand that involving the people we're trying to solve problems for leads to higher satisfaction both in the end product and also in the relationships formed in the process. This growing public awareness validates spending money on qualitative user research and participation, which has fueled a proliferation of user-centered design firms to meet demand.
Examples: IDEO, The Design Gym, Frog, 99% Invisible podcast, Design Matters podcast
A reaction to social/political fragmentation
The 2016 presidential election surfaced public awareness that we're living more and more siloed lives as well as the need to bridge divides by entering into conversation with people that are different from us.
At the organizational level, this has been put into practice by creating more opportunities for stakeholders with different perspectives to be brought together to ensure more voices are heard.
At the personal level, this has been put into practice by people entering into conversation with those who hold differing opinions, even if they're family members or coworkers.
Examples: Heineken's Worlds Apart campaign, Tech Apps/Extensions/Features designed to get outside the #filterbubble,
**Read how to create safe containers where people from different backgrounds can strengthen their empathy muscles: Windows and Mirrors
How We Co-create at NWS
Co-creation is an approach that everyone can take. Grass roots organizations and start-ups may have even more incentive to co-create as they work to understand their audiences and learn how best to meet their needs.
At New Women Space, here are some things we've done so far to bring co-creation into the space:
Feedback sessions
New Women Space exists today because of the conversations that took place during three feedback sessions we held where we asked our friends and peer network what they wanted to see from this space. The questions that sprung from these sessions helped us realize that we wanted to create community beyond our original one month scope. A week after the last feedback session, we signed a yearlong lease at our current location.
Partner events with other orgs with different missions
People often ask what factors most consistently lead to successful events. In our experience, the events that involve the most collaborators bring in not only the most people but the most diverse crowds.
Examples: Got a Girl Crush Print & Zine Fest, Self Care Faire, Hustle Fest
Inclusive messaging
From Day 1, we have been concerned about how we directly and indirectly present our invitation to get involved. Inclusivity has been a significant consideration, informing how we've branded ourselves visually (purposefully designing a "civic" look) and how we frame our messaging (i.e. "Welcome to your space").
Relationship-based business
The grand majority of our reviews from event hosts mention how our staff was of great support. The relationships we cultivate—before and during an actual event—translate into hosts feeling supported throughout the process and eager to share with others how NWS is a personal, caring place to organize an event.
Our current challenge (and opportunity!) is to bring even more collaboration into our processes. We want decision-making power to be shared by more members of our budding community, not just myself and my co-founder Sandy. We know this will help ensure that we continue to engage our community in a way that resonates with them, deepening relationships along the way.
Take Home Questions
I'm happy to report that I no longer feel the urge to roll my eyes when hearing the word co-create. With a deeper understanding of what co-creation actually means, I see co-creation as integral to our world becoming more humane, more empathetic and more cohesive. I truly hope that it is not a passing fad.
So how can you welcome more co-creation into your life?
Next time you hear someone drop the term "co-create", ask them what they mean by it? Spark a conversation to get a clearer handle on what co-creation means to you both.
Consider where you are already co-creating in your life and where there are new opportunities to bring co-creation into your everyday.
Uncover another explanation for why "co-creation" is being valued at this moment in time.
Check out The Design Gym's Strategy and Innovation Consulting services that incorporate co-creation practices to align the needs of your leaders, your customers, and your employees.
Let me know how it goes in the comments or email me your thoughts and stories at: [email protected]
Happy co-creating!
About Melissa Wong:
Melissa Wong is driven by the desire to make meaningful connections between people in a time of beeps and bops. She spends most of her time co-running New Women Space, a community event space that houses accessible, life-affirming programming led by self-identified women, femme, queer, trans and gender nonconforming people living in New York City. She has worked for an array of hospitality businesses, and has supported creative communities like Kickstarter, SoundCloud and Seth Godin's altMBA alumni. Her current quandary: How to live a less calendared life?
Are you a hands-on learner? Come hang out with us on June 5th at Design Thinking Bootcamp to learn and practice co-creating IRL!